AUSPICIA
There are different theories about the unpredictable patterns of starling murmurations.
In the 30s it was argued that the apparent movement of the flock as a single entity was due to the transfer of thought among its members.
Currently, some are inclined to defend that the main reason is the search for the heat of their companions to fight the cold,
although the most accepted theory argues that these constant changes of direction are a form of protection against a common aggressor,
a strategy of survival.
Here is a small section of the archive collected in Rome, within the framework of the project «Augures. What kind of birds do we let choose our destiny? «,
which revolves around ideas of interpretation, patterns, authority, power, protection, respect, collaboration, trust and limits.
The formal proposal is an invitation to dialogue with new trends in documentary that turn to virtual reality,
manually creating other three-dimensional environments that surround, seeking to preserve the physical relationship of the cinema with the viewer,
who is present and shares the space.
This videoinstallation consists in 2 spaces CAGE|TEMPLE and BIRDHEAD.
CAGE|TEMPLE
Lenght: 37min 36 sec
Size: 240cm wide x 320cm high
Materials:
DOME Rolled up A3 paper sheets and cotton fabric
BARS Rolled up paper with wood sticks inside
BASE Gaffer's tape with ink transferred inscriptions.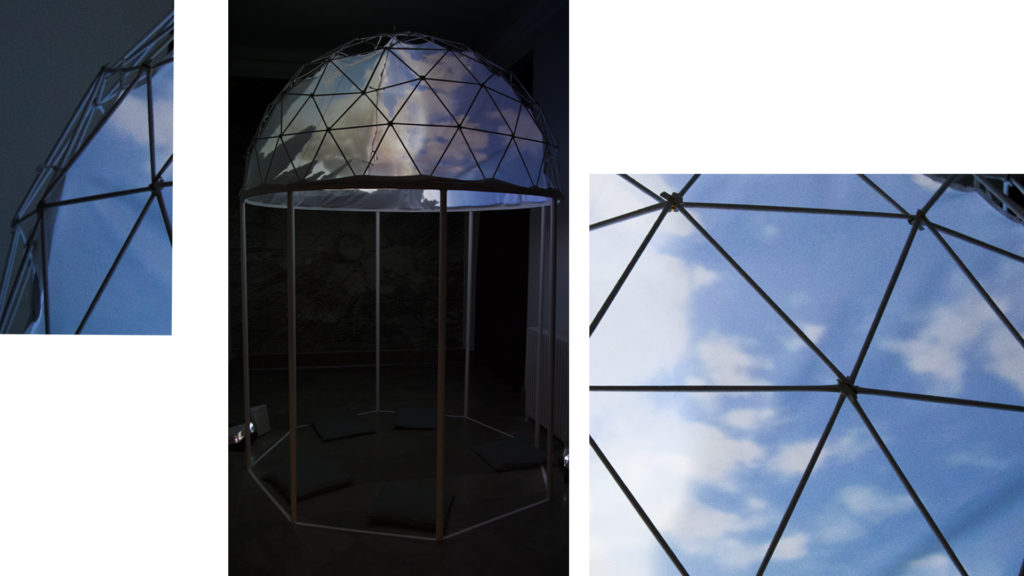 BIRDHEAD
Length vertical: 5min 55 sec
Length horizontal: 4min 4 sec
Size: 120cm x 120cm x 120cm
Materials: Book, old smartphone, headphones, papier maché, chair.